Playa Del Carmen Rental Bike Choices
Playarida Rental Bike Models Available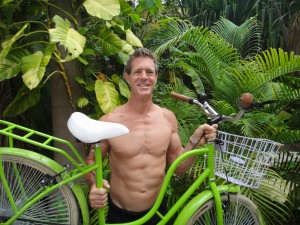 The model you see here above is a great all around frame for all riders. Its big enough for tall riders but has a nice, low step through frame for comfortable mounting and stopping. the frame is a little higher in the front also for a more upright riding position. After trying out many of the different frame styles available here this one is the clear winner for comfort and versatility. These bikes are a little harder to find now because most of the shops have switched to selling the smaller, cheaper step-through frames. You can still currently purchase them at Biciplaya 1 on 30th Ave.
The Purple Cruiser you see below is an excellent choice for taller riders because the frame is longer and taller than all the other economy beach cruisers you will find in bike shops here in Playa Del Carmen.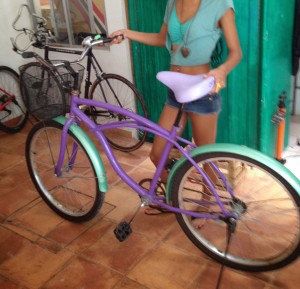 I like to ride this particular model myself because I am taller and it is also a very sturdy frame. Check out my Orange Gym Bike below.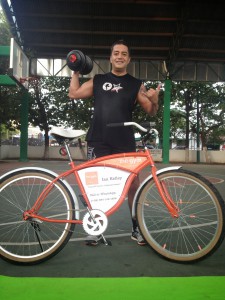 Another consideration is tire size. Notice the smaller,red, urban tires on the playa beach cruiser below equipped with a nifty child seat for your little guys to cruise in style. These tires are faster but puncture more easily and aren't as forgiving on the bumps, potholes and sewer grates that you will encounter riding bikes here in Playa del Carmen.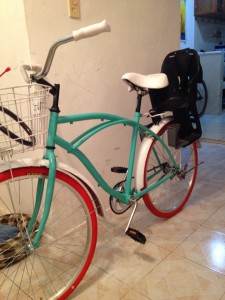 Notice the mountain bike tires on the black cruiser here. These are more commonly used on most bikes down here because the roads can be rugged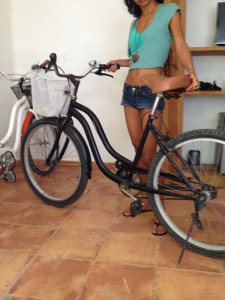 All the bikes you see here and more are available for rental from Playarida. Take advantage of free, convenient delivery to your condo or hotel on rentals of 4 days or more. Or contact me if you would like more information. I hope you get to have as much fun as I do riding bikes around Playa Del Carmen!
Our rates for bike rentals:
Our rates for bike rentals:
1-3 days $13. USD a day
4-7 days $38.USD, 7-14 days $5. USD per day
$38. USD minimum per bike for delivery.
No Deposit Needed and Baskets and Ulocks are included.
ASK ME ABOUT MY LONG TERM SPECIAL FOR OVER TWO WEEKS!
Please contact me to make an appointment and get directions if you want to come to my shop to view bikes. I do mostly deliveries and sometimes I am at the gym with clients so I am not always at my shop and it is hard to find. Thanks!
Reserve your bikes now with a $20. deposit per bike or pay in full.
https://www.playarida.com/wp-content/uploads/2014/09/IMG_1804-e1411946199847.jpg
600
800
PlayaRida
https://www.playarida.com/wp-content/uploads/2018/11/playapng-300x169.png
PlayaRida
2014-09-16 03:02:49
2017-11-25 18:23:14
Playa Del Carmen Rental Bike Choices