Everyone I talk to who has lived here for any length of time has had one or more bikes stolen. The red bike pictured above was stolen from me. It was 1 of 2 I had  stolen at once that were locked together inside a locked courtyard. I saw the bike some time later and most of the parts had been changed and it had new stickers to make it look like a different brand. There was nothing i could do because they don't put serial numbers on the bikes down here so it's very hard to prove it's yours even if you find it later. Usually they will strip it down repaint the frame and swap out the parts.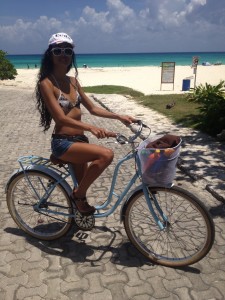 Some of the bike shops are even in on the action. They buy the stolen bikes, repaint, change the parts and voila! New bike for sale. The blue bike pictured above was stolen from me when I carelessly left the key in the lock at the beach. When I went to the bike shop to get another one I think I bought the same bike again painted green! You can see the blue underneath the fresh green paint. I must say they did a nice job pimping it out.
The bike thieves down here are surprisingly bold.  A couple friends have lost really nice custom road and touring bikes they brought from the States.  Bike theft is huge down here because bikes are a hot commodity for the Mexicans for commuting. Most of the time the bike ends up far away in a different neighborhood. So what can you do to reduce your chance for getting jacked? Here's a few suggestions:
1. Never leave your bike locked outside overnight. The thieves use heavy bolt cutters that can cut even a pretty heavy cable lock. Even if you have a U-Lock they might strip your parts or carry the bike away in the night.
2. Use a heavy duty Ulock (This will deter thieves with the small cutting tools) and always lock your bike when you are out and about. Keep your bike where you can see it at all times.
3. ALWAYS bring your bike inside the house with you as much as possible. I can't stress this one enough. Many bikes are stolen from a gated courtyard at night. This is how they got mine and lots of other people. The thieves will see your bike in the daytime and then come back and climb over the wall at night or find a way to access even a secure gated building.
With a little vigilance and common sense you should be able to hold on your bici. Beuna Suerte!
https://www.playarida.com/wp-content/uploads/2013/06/IMG_1364.jpg
480
640
PlayaRida
https://www.playarida.com/wp-content/uploads/2018/11/playapng-300x169.png
PlayaRida
2013-06-04 20:39:29
2016-04-17 14:18:35
Avoiding Bike Theft