Best Tacos In Playa Del Carmen 2014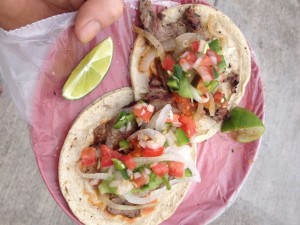 Here is my list of the best tacos in Playa del Carmen for 2014:
Best Pork Tacos- (Carnitas, Carne Asada, Cochinita Pibil)
30th Ave. and Calle 40. Carnitas. This cart on the street has an amazing variety of pig parts. Lengua, Surtida, Cabeza, Saudero.,,,,,Not sure  what to order? Try Surtida. This is a mixture and very tasty. The salsas here are also very nice and complement the tacos nicely. This is a night place and opens around 5 or 6 pm serving till around midnight or whenever they run out.
Antojitas Yucateco- Constituyentes and Highway 307 next to the Oxxo. This is sit down restaurant. Carne Asada-grilled pork chopped, Cochinita Pibil-Slow roasted pork shoulder I believe. Special spices and slow roasting make this regional favorite delicious. This place is great because they use shredded cabbage and there salsa is pure roasted habanero. They also hand press the taco shells so they are delicious and fresh. This is a morning and lunch place only and if you get there early they also have a great turkey or chicken relleno negro taco.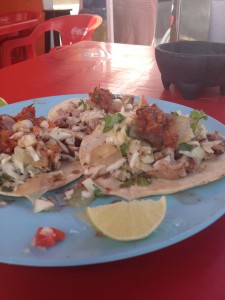 Carnitas In A Truck Calle 38 between Ave. 30 and 35. There's a Taco King cart and Marlin Tostados on this same block but for giant piles of delicious pork on a taco it's the pickup truck with a couple chicos dishing up tacos in the back. You can sit on some rocks nearby under a tree. The preparation is simple and delicious and the salsas are really nice. The old man who runs it is sometimes sleeping in his chair but just wake him up and pay for some of the best Pork carnitas in town. If you arrive early at this morning place you can get some of the homemade crispy pork skin too!
Best Beef Taco;
Chilango Tacos on Juarez. This bustling operation on Juarez and Ave. 45 or possibly Ave. 40  is right next to Domino's Pizza and close to highway 307. These guys are from Mexico City (Chilangos) and they know what they are doing. They have a couple carts on the street where they churn out mass quantities of delicious tacos, my favorites are their Saudero which is a slow-cooked, tender meat and their Cabeza which is from the head of the cow. You can ask for bistec or carne asada if you just want regular chopped beef. The salsas here are amazing and there is a nice covered, sit down dining area in the back next to Domino's Pizza. The service is also friendly and efficient at this night time only place. I think they are closed Mondays but it might be Sundays.
Chicken and More: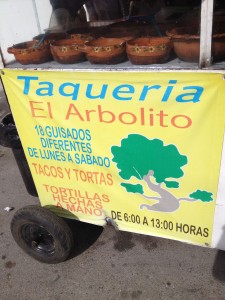 Taqueria El Arbolito (Little Tree Taco Stand). These guys are just off Constituyentes on 45th across from the Oxxo. This daytime place also has a nice roadside restaurant with tremendous fruit smoothies, on highway 307 south in Puerto Aventuras. The stand has a buffet of different cooked meats in tasty sauces. Chicken in red or green salsa, pork, eggs, beef, vegetarian and more. The delicious tortillas are homemade and grilled right there and each taco includes beans and rice if you want. There salsas are also very nice.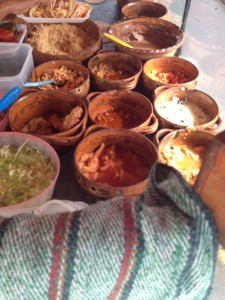 Fish and Shrimp:
 La Floresta. On Highway 307 South towards Tulum just past Constituyentes. This famous restaurant has the best battered fish and shrimp tacos in town hands down. The Pico De Gallo is outstanding.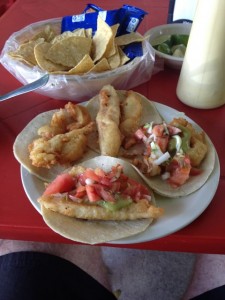 I hope you enjoy my reccommendations. Check back as I plan to edit and add more in the future.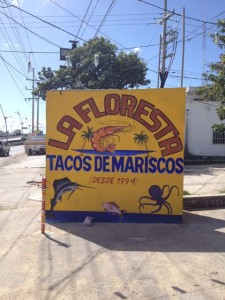 https://www.playarida.com/wp-content/uploads/2014/01/plae-del-carmens-best-tacos-2014.jpg
640
480
PlayaRida
https://www.playarida.com/wp-content/uploads/2018/11/playapng-300x169.png
PlayaRida
2014-03-25 22:51:08
2016-10-03 03:12:36
Best Tacos In Playa Del Carmen 2014