Cenote Chaak-Tun is really amazing. and what I like the most is that it's right in Playa Del Carmen and you can ride a bike to get there. There's a lot of reviews for Cenote Chaak-Tun on Trip Advisor you can check out too if you want to find out more.
The ride to Chaak-Tun Cenoter is about 4-5 km each way from central Playa Del Carmen, so make sure you have a bike that fits you good and you are comfortable on. Check your tire pressure and that your crank and wheel hubs aren't to loose-this is common with a lot of the cheap bikes down here. it's really very simple just locate Ave. Juarez which is the major Avenue in Playa Del Carmen that leads to the ferry for Cozumel. Now head across the 307 Highway to the Ejido neighborhood. Follow Juarez all the way for 4-5 km to the Cenote which is on the right.
This bike tour is awesome now because they completed the bike path on Juarez in the Ejido. You will see authentic Mexican living in this part of Playa Del Carmen and ride you bike past many interesting restaurants and shops where the locals go. The path is actually in the middle of the road-the median-with traffic flying by on both sides. The path is well lit at night and lined with beautiful bushes and flowers. Be careful though because there are many pedestrians on the bike path and traffic at the intersections. A bell for your bike is useful to alert pedestrians. When you reach the end you will continue on the dirt road for 1-2 more km and pass some Ranchitos. Just when you think you are in the middle of nowhere you will see the Cenote on your right. The hours for this cenote are hard to find online but I read that they are open daily from 8 am to 4:30 pm. I'm not so sure about that though. It would be safer to arrive at 10 am or later and ensure that there will be someone there to let you in.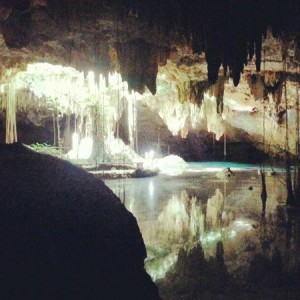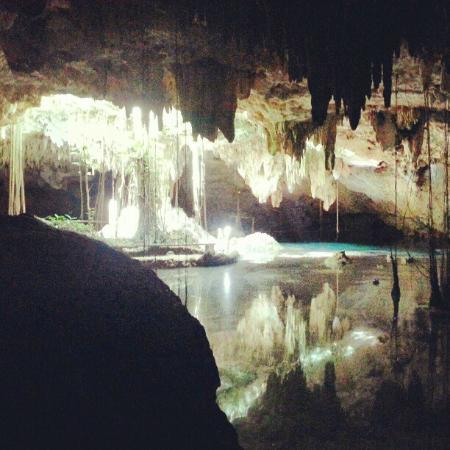 One complaint you will read about on Trip Advisor is that the price for admission has gone way up to around $30. USD per person and maybe more if you want snorkel equipment and what not. I still think it's worth it because it's pretty awesome. If you are not big into swimming and snorkeling you can see most of it without swimming or renting additional equipment. That's pretty cool. There is one cavern that you have to swim into that is pretty spectacular. Plan on walking in shallow water, so water shoes are a great idea and bring flashlights! This is the most important accessory to see everything. I encourage you to take a bike tour to Chaak-Tun Cenote during your stay in Play Del Carmen. It's easy to do on your own, all you need to do is pay the admission and rent bikes from me.