Bike Shops in Playa Del Carmen
There's a lot of shops now in Playa where you can rent our buy a bike as the urban bike scene continues to grow. the best shops for  buying are on 30th Ave. between Constituyentes and 34 Calle. There's 4 different shops now so the prices are competitive and selection of styles and models is great.
Updated Nov. 5, 2013 (There are now 6 shops with bikes for sale on 30th ave. with even better variety and some much better quality bikes for sale  but the 2 new ones are owned by the same people.)
I like Biciplaya 1 and Biciplaya 2 but the others are nearby and worth a look. You can get a decent Beach Cruiser for as little as $150. but you'll probably want a basket, better seat and a sturdy lock so plan on a little more.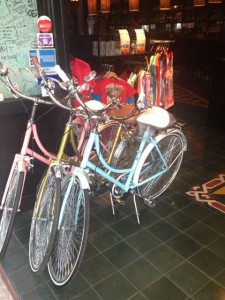 La Bodeguita Del Medio, the Cuban Bar/Restaurant on 5th y 34th has beautiful, tricked out beach cruisers for sale for around $300.-$400. I like these bikes a lot but the unpainted chrome parts aren't stainless steel and will rust when it rains just like the cheaper cruisers.
  Or maybe you're looking for a shop that sells and services higher end bikes. There's 2 on the highway 307 just a little south of Playa heading towards Tulum. The closest one is EcoBike on the right before Centro Maya shopping center. I like these guys they helped me with my touring bike and they have a small selection of higher end Triathlon, Road, Mountain Bikes and even a fixie or two. The owners name is Mario, he speaks English and he is very knowledgeable and friendly.
Updated September 28, 2014- Ecobikes changed their name to Cycling Journey and moved to Ave. 10 between Calle 32 and 34. They have a facebook page for more info.
The other one is called TechnoBike and is just a little further down, still an easy bike ride from downtown, and right after Liverpool on the right. These guys have a bigger selection of higher end Road and Mountain Bikes for sale and even have weekend tours you can get in on but they are for serious riders. On Saturdays they ride Mountain Bikes and Sunday they ride to Tulum and back with a truck following for safety. The mechanic there is very good and speaks English. These are the best shops if you need a higher end bike serviced or want something nicer. Expect to pay normal US prices and they don't generally stock anything in larger frame bikes so you better bring your own if you're tall and want to do some serious riding.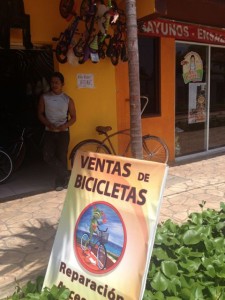 https://www.playarida.com/wp-content/uploads/2013/08/IMG_1873.jpg
640
480
PlayaRida
https://www.playarida.com/wp-content/uploads/2018/11/playapng-300x169.png
PlayaRida
2013-08-23 19:19:25
2015-10-19 04:09:38
Bike Shops in Playa Del Carmen