Bikes For Sale In Playa Del Carmen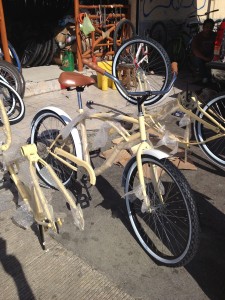 There's a huge variety of cheap bikes for sale in Playa Del Carmen now. If you are staying in Playa for more than 2 or 3 weeks it may make more sense to just buy a bike. You can find pretty decent bikes for sale for around $250. U.S. and cheap ones that will get you buy for around $180. U.S. The bikes for sale that are pictured above are 1800. pesos or around $150. US. Of course you will need a good lock and most people want a basket. Other good upgrades are a more comfortable seat, hand brakes, lights for night riding and a bell for the busy streets. So about another $30-$150. and you're rolling.
The bike shop I recommend is Biciplaya 2 on 30th Ave y Calle 22 but there are 3 other shops right down the street on 30th if you want to shop around.
Updated Nov. 5, 2013 (There are now 6 shops with bikes for sale on 30th ave. with even better variety and some much better quality bikes for sale  but the 2 new ones are owned by the same people.)
Keep in mind these are cheap Mexican bikes with hub brakes and uncomfortable seats. Often there will be problems with the crank and hub bearings and warped tires. If you are over 200 lbs. you may want to upgrade to metal pedals as well because the cheap plastic ones they use tend to break easily. Take you're time when you purchase to make sure you have a good fit and everything is working properly. The guys at Biciplaya 2 are really cool about modifications, repairs and flat tires. You will probably have to stop back in at some point but don't worry it will be inexpensive and usually quick.
Of course you can buy a nicer more expensive bike for a few hundred dollars more if you want. A fancy Beach Cruiser or Mountain Bike or Road Bike with or without gears. But in my opinion, the Cheap Beach Cruiser is the best choice. The busy city streets with traffic, pedestrians, topes (speedbumps) and potholes make a fast or geared bike unnecessary.  The Cheap Beach Cruisers  also don't have quick release rims or seat post clamps which is ideal because theft is an issue here. No gears, no problem.  Gears are completely unnecessary because Playa is so flat. Most of the bikes down here are also very small and short framed too which is a comfort and fit problem for taller riders. The Beach Cruisers have the best frame size for taller riders too.
Most people like the swept back handlebars that come on these bikes standard because it is a better fit if you are shorter and will stay seated most of the time. If you are taller or a more aggressive rider you may want to switch to flat, straight Mountain Bike handlebar or my favorite a high BMX handlebar. If you want help picking out a bike that is a good fit for you please contact me and I will help you out if I'm available, my house is right across from Biciplaya 2. You will just have to go for a ride with me and  buy me a taco or a fruit smoothie!
Keep in mind too that when you leave you may not have much luck selling your bike. If you are interested we can arrange to have it donated to a Mexican family or person who will be really happy to have a bike to get to work and stop taking the bus and taxis:)
Ian Kelley
https://www.playarida.com/wp-content/uploads/2013/02/IMG_1428.jpg
3264
2448
PlayaRida
https://www.playarida.com/wp-content/uploads/2018/11/playapng-300x169.png
PlayaRida
2013-02-23 16:40:06
2013-11-06 01:40:31
Bikes For Sale In Playa Del Carmen