Playa Del Carmen Best Tacos 1.0
By Ian Kelley
August 30, 2017 Update: These guys have moved again and now have a better permanent location calle 44.
The best tacos in Playa Del Carmen are not on 5th Ave. They're hidden in hole-in-the-wall taquerias and dirty, little stands and taco carts on back streets, lots and private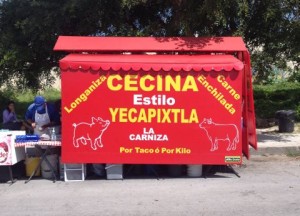 homes. if this doesn't sound like places you would dare to eat than my taco reviews are not for you, go back to the biased reviews on TripAdvisor and have a nice day. But if you are up to the adventure, then please read on…..
One of the signs that you have found a good place to eat, like this taco stand, is when there is a crowd of people waiting for food. I hate to tell you guys about this place because you might get in the way when I'm getting mine. I won't pretend I know what to call this place but the name is there. Their main item is tacos de cecina, which as far as i can tell, is a thin-pressed, lightly salt-cured beef. It is grilled, sliced and served with cooked onions and Nopal cactus strips. i was told this style comes from the north and is not typical of the Yucatan. The cecina is the best taco they have but they also have Longaniza which is a spicy, ground pork or something. They have bottled soda and some nice juices and aguas to drink. There's a big guy who chops up a giant block of ice everyday. He will help you pick out a nice refreshment.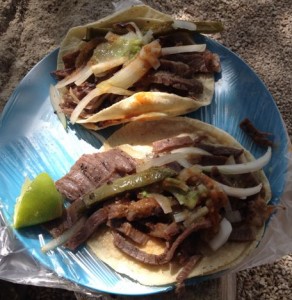 You may notice in the photo there is a jazzy sauce which I believe is chicharon, a tasty sauce made from pork skin. This is some thing new they added and optional. The sauce is OK but the original version is a very nice, clean taco. The beef is tender, lean and nothing is greasy. The condiments are good while they last. They have mild red or green salsas, a spicy onion-habanero mix, limes and cream sauce to cool the fire.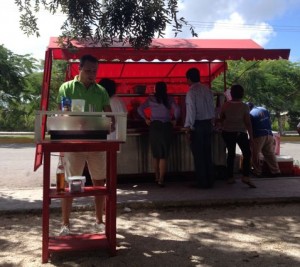 The tacos are bangin' but I do have two minor complaints about this place. If you arrive later in the day their salsas get thinner and fewer. This is good and bad. It means they make there stuff fresh everyday but come on guys, I used to be a chef, prep a little more and don't add water when you're running low. But I don't think they care. They have plenty of business. That's my other complaint. Sometimes they're so damn busy you have to fight the crowd to get your tacos. They also have a weird ordering system. You have to pay first to a guy on the side and if you don't know this you will wait a while. Hell, you'll wait a while anyway because that guy is usually cooking too.
Obviously, this is not a fancy place. It's a place that delivers a great value in a delicious 12 peso taco. Their dining area is a few plastic stools and some big rocks under a tree and they are located on Calle 38 between Ave. 45 and the highway. These guys are a daytime place only as well, they serve from 8:30-2 pm and are closed thursdays and whenever else they feel like it. I hope you enjoy it as much as I do and don't worry if I see you there i'll be nice and won't cut you in line. And remember. Ride bikes, eat tacos and have fun.
https://www.playarida.com/wp-content/uploads/2013/10/IMG_1137.jpg
640
480
PlayaRida
https://www.playarida.com/wp-content/uploads/2018/11/playapng-300x169.png
PlayaRida
2013-10-26 20:01:07
2017-08-30 16:27:30
Playa Del Carmen Best Tacos 1.0