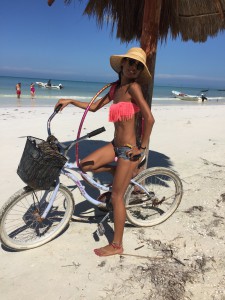 So you're thinking about renting or buying a bike to get around town for your stay in Playa. Congratulations! You've made the right choice. With the rapid growth of the city traffic and parking are a problem now and the Urban Cyclist can arrive to any destination and park usually before a car can get there. Most bike rental shops in town charge around $10. a day to rent a bike and you can buy a new one for $150.-$250. This has made it popular for people visiting long term to just buy a bike and sell or give it away when they leave.
Our Rates:
1-3 days $13. a day
4-7 days $38.USD, 8-14 days $5. USD per day
ASK ME ABOUT MY LONG TERM SPECIAL FOR OVER TWO WEEKS!
Please contact me to make an appointment and get directions if you want to come to my shop to view bikes. I do mostly deliveries and sometimes I am at the gym with clients so I am not always at my shop and it is hard to find. Thanks!

We have nice bikes and will deliver to you but if we don't have what you are looking for we can direct you to the best bike shops in town to purchase or rent.
Our purpose is to provide a good value to people and be honest, courteous and helpful to other bike enthusiasts. We love to ride and do weekly small group bike tours around the City. Contact us to reserve your bikes or book a tour!
Ian Kelley +52 984-142-1638